It's time to go back to school. Stress and sleepless nights are coming to invade our lives once more.  School works are going to bombard us once more to the extent that we don't even have enough time for self-care. Yet, we all want to show up in class looking fresh and clean like nothing bothered us at all – when in fact, it felt like hell. So here I am to aid you in looking fresh and beautiful in the darkest of times.
BUT, you have another concern. Summer just ended and classes have just begun which means that we barely have any money to spend on self-care essentials. You're basically broke. Another good news, We got your back girl.
TIPID! Back to School Kikay Kit
Primer
Wait, is primer really important?
Well, if you want to look fresher longer, fewer retouches, fewer pores and lines, smoother skin and a matte finish, then yes, a primer is important.
Before, I thought primers are just a waste of money but then I have observed that my face has become cakey and patchy throughout the day. Skipping primer is a no-no if you want to achieve a natural look.
Must Try Product!
Maybelline Baby Skin Pore Eraser
Price: Php. 299.00
Where to Buy: Watsons, Maybelline & Other Drugstores
What I Love About This:
It does what it claimed to do and is truly effective  because it smoothens and covers up the pores and moisturizes it at the same time. It is fragrance-free which is great and gives you a matte finish. Though, I still need to do some retouches throughout the day. But nevertheless, it serves as a great primer that costs only Php.299.00.
BB Cream (Blemish Balm)
BB creams are like foundation but thinner and feel lighter on the skin but have less coverage on the skin. Theyalso have additional benefits on the skin like SPF or moisturizing benefits depending on the brand. For me, BB creams are like foundation and face powder in one. Meaning, one less product to buy.
Must Try Product!
Maybelline Clear Smooth All in One BB Stick
Price: Php. 289.00
Where to Buy: Watsons, Maybelline & Other Drugstores
What I Love About This:
It is convenient and handy because of its stick form. Because of its form, it is also easier to apply than the typical BB cream which is usually messy. It can also smoothen and refine your skin while maintaining that no makeup look. It can also be used as a concealer to brighten up your face. There is no need for it to dry because it has a cream to powder formulation. But it is harder to blend than those BB creams that have a flowy formulation. The coverage is fairly light but it does give a dewy and even skin. Basically, this product is beauty and convenience in one.
Cheek & Lip Tint
We all know about lip tints because they are a hit right now for a reason. They don't only last longer but it looks more natural too. To achieve a more natural look, your blush and lip shade must of the same color and that's what lip tints do. Lip tints are also the key to getting that flushed and mestiza look that people desire to have nowadays. So go ahead, treat yourself and buy that lip tint.
Must Try Product!
The Face Shop Watery Tint – Orange
The Face Shop Watery Tint – Rose Garden
Price: Php. 250.00
Where To Buy: The Face Shop
What I Love:
Okay, I know what you're thinking. "Belle, that's expensive!" But let me tell you, it is worth it. Plus, Face Shop usually have Buy 1 Take 1 promos for these lip tints. I only buy them when they are on sale to save my wallet. Most cheap lip tints usually make your lips look patchy and unnatural but this product gives you a smooth shade all over your lips.
The 2 shades that I love are Orange and Rose Garden.
I usually use the shade Orange for my cheeks because they blend easier and doesn't set on the cheeks which most cheek tints do. It is also easier to adjust the shade especially for those who just started using these.
Another of my favorite is Rose Garden. It lasts longer on both the lips and cheek. It is easy to blend on the lips but tends to dry immediately on the cheeks when applied inappropriately leaving red spots. The technique here is to apply the lip tint before the face powder (but if you are using the BB stick above, there will be no red spots). This is the better shade if you want to be tipid because you only need a very small amount and could last for many months.
Brow Pencil/ Powder
If you want to have 24/7 on fleek eyebrows, you gotta have some brow pencil or powder in your kit. Eyebrows are one of the important features of the face because it frames the eyes and shows emotions. If your brows are on fleek, your face is surely going to brighten up your face. Here are some products for you to achieve the eyebrows of your dreams.
Must Try Product!
Maybelline Fashion Brow Duo Pen
Price: Php.199.00
Where To Buy: Maybelline, Watsons & Other Drugstores
What I Love:
The fact that it is an eyebrow liner and powder in one is definitely one of the reasons why I love this product. This product gets to hit two birds with one stone. It is easy to apply and handy at the same time. The powder is also pigmented and lasts long which is a plus. This is truly a must try product especially to those who are beginners because controlling the shade is easier with this baby.
Fragrance
You shouldn't just look fresh alone, you need to smell good like a bouquet of flowers. The fragrance is a must if you want to get that great first impression. The scent has a lot to do how people react to us. It is also a symbol of how you take care of yourself. Just keep in mind that how you smell can turn things around. Go girl and smell like a celebrity.
Must Try Product!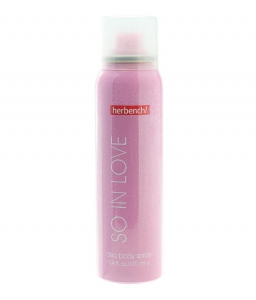 Her Bench So In Love Body Spray
Price: Php. 120.00
Where To Buy: Bench
What I Love:
Unlike other perfumes, this body spray has a mild scent with a feminine touch. It is appealing without going too strong. Its packaging is also handy, convenient and no accidental perfume spills in your bag. It smells sophisticated and sweet which can turn heads around. One thing for sure is that this babe will make you feel fresh.
     6.  Sunscreen
Being back to school also means we need to commute, walk across the school grounds and feel the wrath of the blazing sun. If we really love our skin, we must also take protect them. It is basic skincare knowledge that we should apply sunscreen before going out of the house especially in the Philippines where we feel like we're in an oven every day. Don't ever skimp sunscreen girls.
Must Try Product!
Pond's White Beauty Day Cream with Sun Protection
Price: Php. 120.00
Where To Buy: Local Drugstores
What I Love:
This day cream is convenient because of its leak-proof packaging which means no messy spills. The fragrance is mild that it doesn't really irritate your nose. Your skin will have a matte finish and no oily sheen. Aside from sun protection, it also moisturizes the skin and lighten your acne scars within two weeks. Just remember to retouch throughout the day to keep your skin protected.
Summary!
You can now look fresh and beautiful at all times while overcoming your hectic schedules. Good luck everyone and I wish that you would have a great school year ahead of you.